The principal project which led to the founding of Bradwell CLT.
The Peak District National Park Authority (PDNPA) has permitted a housing development of 55 houses on the site of the former Newburgh works, together with the construction of an industrial unit for retention of Newburgh manufacturing and local jobs in a smaller, purpose-built factory.
Forty three 3 to 5 bedroom houses will be sold on the open market but as a result of work by the Bradwell Community Land Trust (BCLT), twelve 2 bedroom houses on the site have been secured as affordable homes, for rent to local residents. Ordinarily a developer is not allowed to build open market houses in the Peak Park, but by making twelve units available to BCLT the local community benefits and the developer can offset the open market houses. This is a major gain for the community.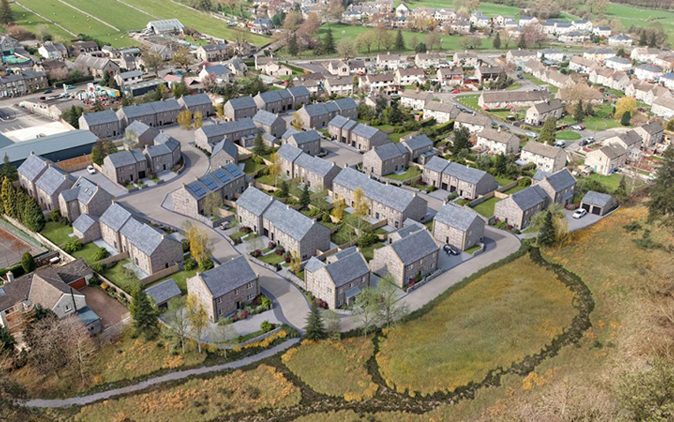 BCLT is not responsible for the building work or site layout, which are the responsibility of Camstead Homes – the developer. Any issues such as access, parking and other restrictions during construction should be referred to the PDNPA, as the planning enforcement authority. BCLT will own the freehold for the 12 affordable houses and has engaged Peak District Rural Housing Association (PDRHA) to manage the properties for us and to engage with Home-Options, which is a choice – based letting scheme for prospective tenants operated by Derbyshire Dales District Council. Priority will be given to tenants with a strong local connection to the parish of Bradwell or an adjoining parish in accordance with this letting policy. Other factors taken into consideration include housing need, personal resources, place of current residence and work and how long the applicant has been on the Home-Options register.
Construction began in early 2020 and the site will be developed in three stages. The first phase of 13 open market properties began at the rear of Charles' Garage and includes the first six affordable units. The image above shows an artist's impression of how the site will look when complete and all of the first phase of 13 homes have now been sold, with most occupied as of May 2021.
The pictures below show the first six affordable houses in an "almost ready" state as of May, 2021, and the CLT Chairman cleaning the lounge floor ready for application of vinyl flooring.