The principal project which led to the founding of Bradwell CLT.
The Peak District National Park Authority (PDNPA) has permitted a housing development of 55 houses on the site of the former Newburgh works, together with the construction of an industrial unit for retention of Newburgh manufacturing and local jobs in a smaller, purpose-built factory.
Forty three 3 to 5 bedroom houses have been sold on the open market and, as a result of work by the Bradwell Community Land Trust (BCLT), twelve 2 bedroom houses on the site have been secured as affordable homes, for rent to local residents. Ordinarily a developer is not allowed to build open market houses in the Peak Park, but by making twelve units available to BCLT the local community benefits and the developer has been able to offset the open market houses. This is a major gain for the community.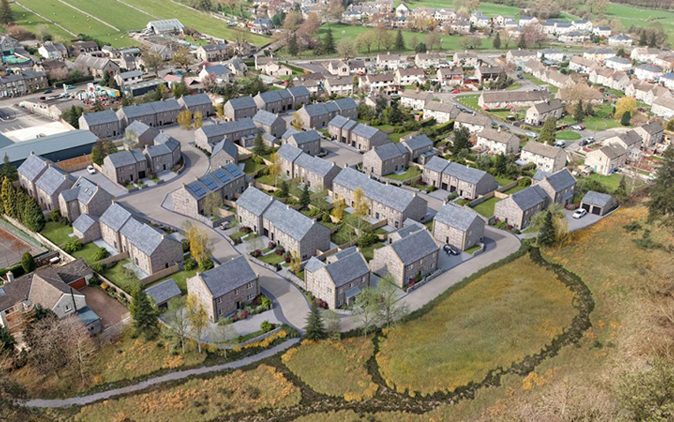 BCLT was not responsible for the building work or site layout, which was the responsibility of Camstead Homes – the developer. BCLT now owns the freehold for 12 affordable houses and has engaged Peak District Rural Housing Association (PDRHA) to manage those properties, using the Derbyshire Dales District Council Home-Options scheme to identify and select prospective tenants. Priority was given to tenants with a strong local connection to the parish of Bradwell or an adjoining parish in accordance with this letting policy. Other factors taken into consideration included housing need, personal resources, place of current residence and work and how long the applicant has been on the Home-Options register. As a result of this work we now have twelve local families living in our houses.
Construction began in early 2020 and the site was developed in three stages. The first phase of 13 open market properties began at the rear of Charles' Garage and included the first six affordable units. which were all occupied during August 2021. The remaining houses were built during 2022 and 2023, with the final six affordable homes being finished in August 2023. The pictures below show the first six affordable houses after the tenants had moved in.